Wow, it has really been a long time since I've updated.
First off, I have failed my own challenge. I did make one top and one dress. The button on the top fell off after one wear (and I'm not much a fan of it, anyway) and the dress is lovely. But I have yet to procure photographic proof. I'll get on that.
Also, I wound up buying more fabric. With a garment in mind....but I've hardly made a dent in my current stash. I did manage to weed out the "grandma fabrics" as Ben so lovingly calls them and plan on donating them to my local 4-H for their fabric sale. (Ironically, I'm fairly certain that I bought most of those fabrics at the 4-H sale.)
And the last bit of my failure is that I bought a few sleeveless blouses in the summer. The A/C in my car was dead and we were in the middle of a heat wave. The best option, it seemed was sleeveless blouses with a light short-sleeved cardigan for the office. That way I wouldn't
completely
melt on my way home. I simply didn't have the time, but I did however, have a 30% off coupon for Kohl's. And I did end up mending what I bought to fit me right.
Now, that isn't to say that I haven't been crafting away.
I am especially proud of this tea tray that I customized for my dear BFF and her new husband. They are both music geeks, even more so than I. (In fact, the groom was a member of the YellowJackets, who are doing a
smashing job
on the
Sing Off
right now. You should really
check them out
.) And they love tea. So I wanted to make them a literal tea tray that featured their love of music.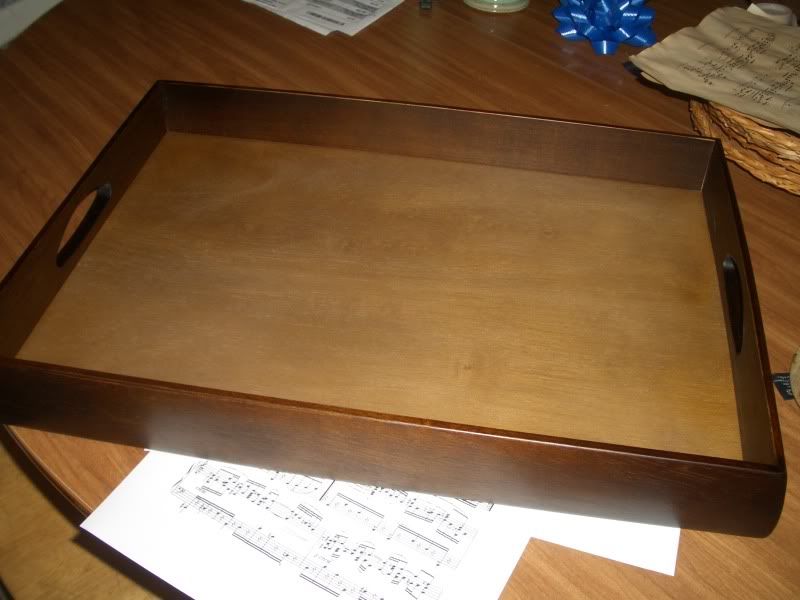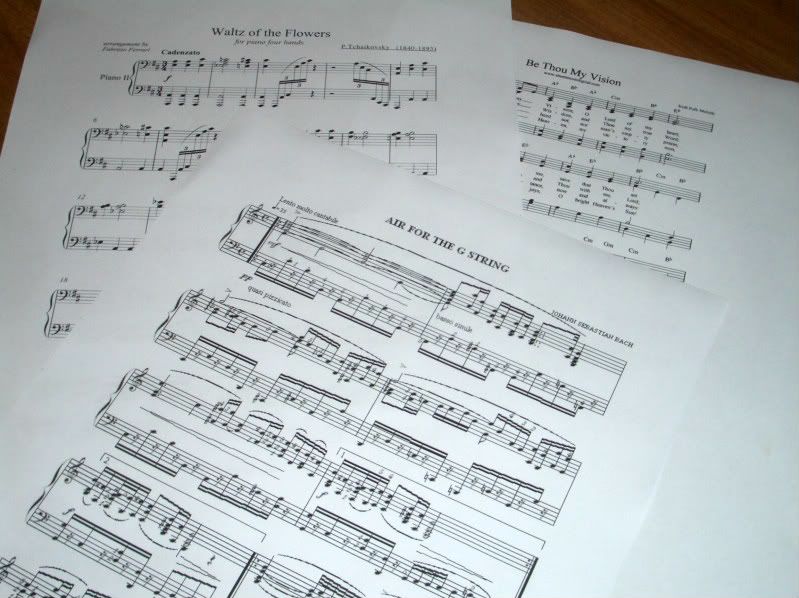 The tray is from Target and beautiful as is. I printed out some favorite musical pieces, soaked them in tea, and baked them a little. Then I tore them, laid them out and Mod Podged the heck out of them.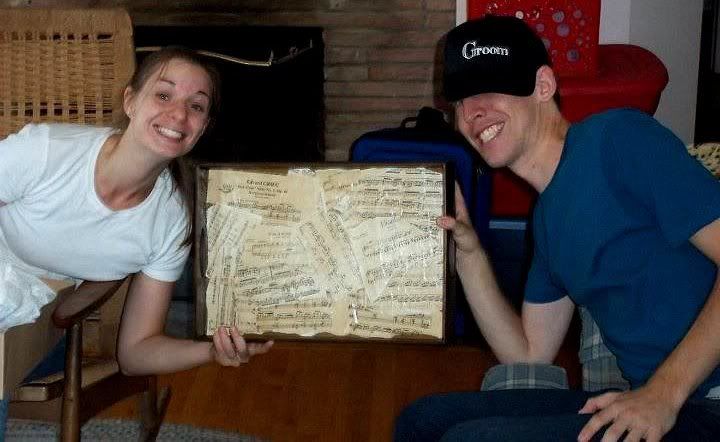 They were ecstatic. I failed to photograph the finished product myself, so I borrowed the bride's own picture.
Now, I shall get back to my Christmas present knitting (I am as pleased as a peacock, but I can't show off!) and pattern design testing. I also have some painting projects underway that I should be able to share soon.